How to Check Your Transmission Fluid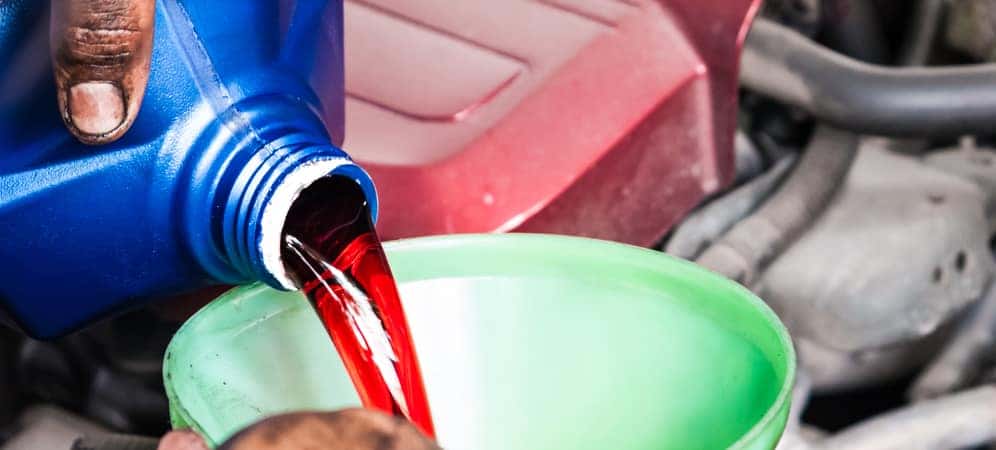 If you know how to check your transmission fluid, you can assist in preventing major vehicle problems down the road. It is a very simple task if you follow the steps below:
Turn the car on so that the engine can be warmed up before checking the fluid level.
Locate the transmission fluid dipstick. Own a front-wheel drive car? You will probably find it to the right of the oil dipstick. If you are unable to find it, your owner's manual should be able to assist you.
Remove the dipstick and inspect the consistency of the fluid. The fluid should be almost clear with a pink tint. If you see that it has been contaminated with a lot of dirt and debris, or it has a burning smell, it's time for a replacement.
Use a rag to wipe off the dipstick. Then insert it back into the vehicle. Pull it out again to check the level. Add more transmission fluid if the level is under the "FULL" line.
Use a funnel to add more fluid, but avoid adding too much.
If you run into any issues, feel free to check with Dakota Chrysler Center, providing service to customers from Breckenridge and beyond.
How Often Do You Check Your Transmission Fluid?
You should check the main fluid levels of your car monthly. That includes checking your transmission fluid, power steering fluid, and engine oil. As always, you can consult your owner's manual for a more specific maintenance schedule.
Transmission Fluid Information
Your transmission is quite complex, so there are a few things to know before you begin:
Not all transmission fluid is the same. The type can vary by the model you have or by transmission type. Check your owner's manual to see what is recommended.
Checking the fluid on a manual transmission will usually require a jack to access a plug located beneath the car. This can be a little more challenging, so you may want to leave it to the professionals at Dakota Chrysler Center.
If your transmission fluid is low, your vehicle may hesitate when shifting gears. If your fluid level is not the culprit, this could be a sign of a more serious issue.
You'll want to replace your transmission fluid every 50,000 to 100,000 miles. The frequency of this service can fluctuate based on your driving habits, type of transmission, and other factors. Look for the recommended service intervals in your owner's manual.
Get Your Vehicle Service Questions Answered at Dakota Chrysler Center
If you have any questions about vehicle service or maintenance, don't hesitate to ask. Our knowledgeable and highly-skilled technicians would be delighted to help, and tell you about advantages of Chrysler OEM parts. Contact our service center or stop by our showroom near West Fargo.
More Service Tips From Dakota Chrysler Center
Like many other auto services, oil changes are crucial to the health of your car. So, how often should you change your oil? Experts used to recommend oil changes every 3,000 miles. However, times have changed and developments in oil life and engine technology have given car owners more leeway. Now, many new vehicles require…

If you're looking for an oil change in your car near Breckenridge, the team of factory-trained and certified technicians at Dakota Chrysler Center is here to help. At our Chrysler service center, we will replace oil with high-quality motor oil while also taking the time to inspect major vehicle components and systems to make sure…

Tires with uneven tread wear pose a special driving risk – especially in cold weather or off-roading conditions. To prevent dangerous uneven wear and to ensure you get the most from those expensive tires you shelled out for, it's essential to rotate your tires regularly. Schedule Service How often to rotate your tires depends…