How to Reset Your Tire Pressure Light
Your tire pressure monitoring system (TPMS) is critical to your safety, and it's important to make sure it's working properly. If you've reinflated your tires to the proper pressure, but your TPMS light stays on, you might need to reset it. We'll help you learn how to reset your TPMS light, but if it stays on, be sure to bring your vehicle to the service center at Dakota Chrysler Center near West Fargo.
Resetting Your Tire Pressure Light
After you've properly inflated your tires, your tire pressure light should shut off automatically. However, there are a few actions you can take if your light remains lit:
Drive at or above 50 mph for roughly 10 minutes. It often takes a bit of time for your light to reset after refilling.
When the vehicle is off, turn the key to the "On" position without turning the engine over. Hold the TPMS reset button, located under your steering wheel, until the tire pressure light blinks three times, then release. Start your car and wait 20 minutes to allow the sensor to refresh. If you can't find your TPMS reset button, check your owner's manual.
Inflate all tires to 3 PSI over their recommended amount, then completely deflate them. Make sure you repeat this process with your spare tire, as it may also have a sensor. Once they're all deflated, reinflate to the recommended tire pressure.
With the vehicle off, disconnect your positive battery cable. Turn the car on and honk the horn for about three seconds. This will discharge any power still stored in the vehicle. Then reconnect the battery, and your TPMS light should reset.
What Does a Flashing Tire Pressure Light Mean?
Tire pressure sensors sometimes use a standalone battery, and a flashing tire pressure light can mean that the battery needs to be replaced. It could also be a sign that there's a bigger issue with your tire pressure monitor system. Either way, if your tire pressure light is flashing, you should absolutely schedule service at Dakota Chrysler Center near Breckenridge. Our team will ensure that your car, truck, or SUV is safe and secure.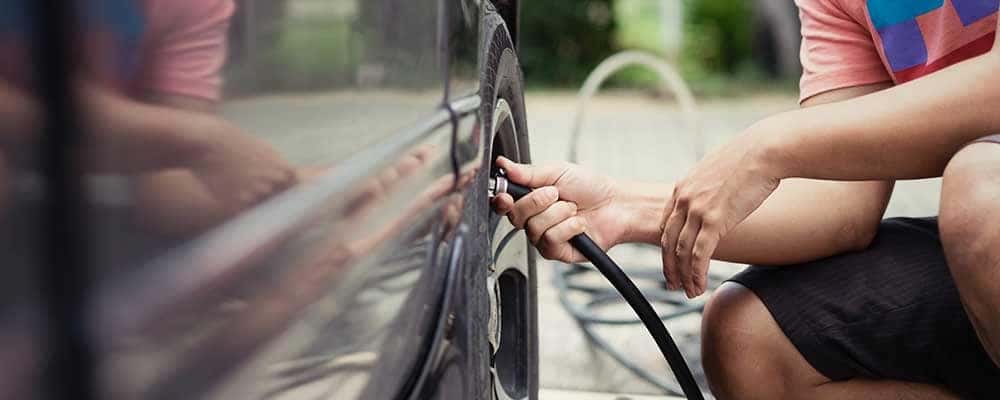 Visit Dakota Chrysler Center Today
Figuring out why your TPMS light won't turn off can be tricky, but the service center at Dakota Chrysler Center is always standing by to help. We have the equipment and experience needed to keep your Chrysler, Dodge, Jeep, or RAM running smoothly and safely. Contact us with any questions or schedule service at our repair shop near Fargo.
Like many other auto services, oil changes are crucial to the health of your car. So, how often should you change your oil? Experts used to recommend oil changes every 3,000 miles. However, times have changed and developments in oil life and engine technology have given car owners more leeway. Now, many new vehicles require…

If you're looking for an oil change in your car near Breckenridge, the team of factory-trained and certified technicians at Dakota Chrysler Center is here to help. At our Chrysler service center, we will replace oil with high-quality motor oil while also taking the time to inspect major vehicle components and systems to make sure…

Tires with uneven tread wear pose a special driving risk – especially in cold weather or off-roading conditions. To prevent dangerous uneven wear and to ensure you get the most from those expensive tires you shelled out for, it's essential to rotate your tires regularly. Schedule Service How often to rotate your tires depends…
We are currently updating our Service Specials. Please check back soon.