How Often Should You Rotate Your Tires?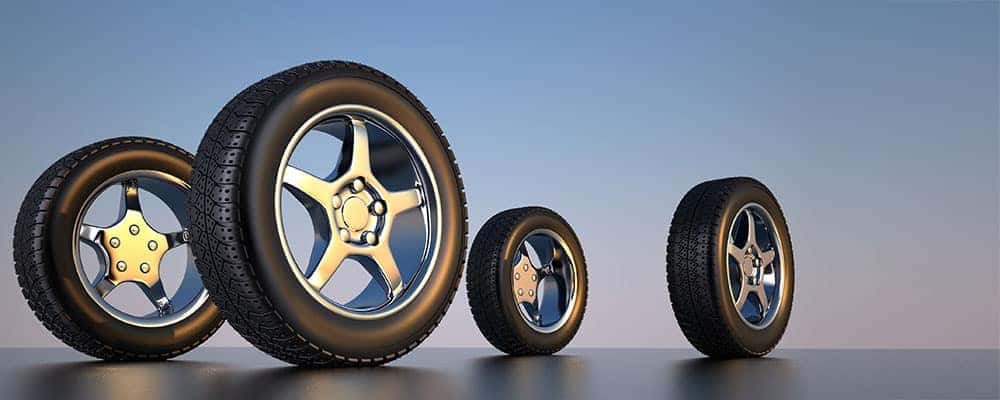 As a general rule, many experts suggest going no more than 5,000 to 7,500 miles without a tire rotation. Of course, as with any broad guideline, you should always consult your owner's manual or the service department near Breckenridge for the exact interval for your vehicle. Take a look at our guide at Dakota Chrysler Center to learn more!
Rotating Tires on FWD and RWD Vehicles

The proper tire rotation method depends on what wheels are driven by your car. The wheels that receive power from your engine are worn more quickly than the ones that aren't. So that means the rear wheels on a Rear-Wheel Drive (RWD) car will wear more quickly than the front, and vice versa for Front-Wheel Drive (FWD) cars. Follow our tips below for more info:
5,000 to 7,500 miles is a guideline for RWD and FWD cars alike, but your owner's manual will have the exact interval.
On FWD cars, the front tires are moved to the back and they switch sides. When the rear tires are moved to the front, though, they stay on the same side.
The process is mirrored on a RWD car. Rear tires are moved to the front and they switch sides. Front tires are moved to the back and remain on the same side.
Driving conditions and habits have an effect on your tire conditions. Rough roads in West Fargo and potholes on Fargo streets can prematurely damage your tires.

AWD Tire Rotation Tips
All-Wheel Drive (AWD) systems provide variable power depending on traction conditions. Because it can be hard to pinpoint how quickly each tire will wear on an AWD car, there's a general guideline of 3,000 to 5,000 miles. However, you should always check your owner's manual for exact interval. Be sure to contact the service specialists at Dakota Chrysler Center if you're unsure when your last rotation was and we'll be glad to perform an inspection and rotation.
Why Rotate Tires?
While it may be clear that tire rotations make your tires last longer, there are several additional benefits you'll get from regular tire rotations. Some of which include:
Less road noise
Reduced drivetrain wear
Improved traction and predictable handling
Get Your Tire Advice From Dakota Chrysler Center
Anytime you need a tire rotation, the service team at Dakota Chrysler Center has you covered. Our highly trained service specialists are ready to help. Schedule a tire rotation online today! Don't hesitate to contact us with any questions you may have.
Learn More With Dakota Chrysler Center
The 2019 RAM 2500 is a powerful pickup truck that can handle any tough job! With a maximum towing capacity of 19,780 pounds, this heavy-duty RAM can tow larger equipment and help complete your major job tasks in the Breckenridge area. With two available engine options and the strength to tow thousands of pounds, critics…

Would you like to take visibility on your 2019 Jeep Wrangler to the next level? Jeep Wrangler LED headlights can be equipped for superior nighttime visibility around Breckenridge and West Fargo. While some top-trim Wranglers offer LED lighting, you can always outfit a lower trim with OEM Mopar® LED bulbs. Our parts department makes it simple…

Spanning 34 acres, the Red River Zoo Fargo is home to 89 different animal species from all over the world, including an impressive range of animals from Northern Asia, Northern Europe, and North America. The award-winning zoo is also committed to deep conservation work and educating the community. Check out some of our favorite exhibits…